Good Samaritan grants from Sisters of Charity Foundation of Cleveland support food, hygiene needs in wake of COVID-19
---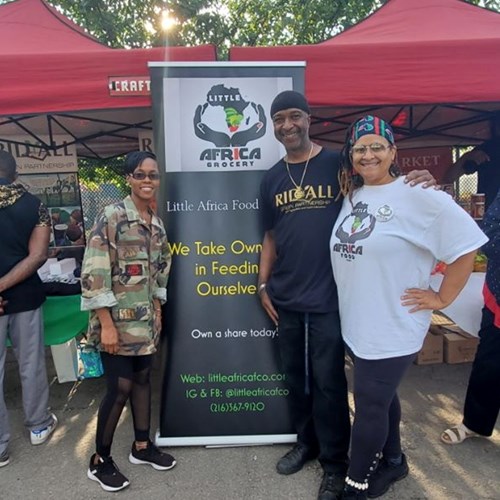 Amid this global crisis, the Sisters of Charity Foundation of Cleveland expedited its Good Samaritan grants program to provide financial support to the many organizations working around the clock to respond to unmet needs in Cleveland communities. In April 2020, the program provided $60,000 of basic needs funding related to the impact of COVID-19 with an additional $40,000 in grants to be distributed in May.
The Little Africa Food Collaborative is one of the foundation's grantees. Its work to bring food resources and nutrition education into some of Cleveland's impoverished communities is profiled in Freshwater Cleveland.
The first initiative implemented by the foundation after its establishment in 1996, the Good Samaritan program's purpose is to support non-profit organizations for which a modest grant would make a difference in continuing to provide necessary and immediate goods and services to individuals living in poverty. The program expresses the important value of the Sisters of Charity of St. Augustine of respecting the dignity of every individual.
In light of COVID-19, this year's application process opened a month early to ensure partners, grantees and neighbors could access the support they need in this crisis.
2020 Good Samaritan grants include $5,000 in funding to the following organizations:
As of May 6, 2020
Boys Hope Girls Hope of Northeast Ohio – for educational materials and food in support of Operation Hope Family Nutrition Program
Cleveland Peacemakers Alliance – for food, transportation expenses and hygiene kits
Garfield Human Development Corporation – for food & delivery costs for the community food pantry
May Dugan Center – for food assistance to strengthen community food service
Famicos Foundation – for food, hygiene and cleaning products in an effort to provide relief for senior & disabled low-income and housing-insecure residents
Northeast Ohio Coalition for the Homeless (NEOCH) – for continued shelter support in their COVID-19 response for those experiencing unsheltered homelessness
Nueva Luz Urban Resource Center – for food & supplies for its emergency mobile food pantry
West Side Catholic Center – for continued food/meal support and resources
St. Paul's Community Outreach – for food for individuals experiencing homelessness
Cuyahoga Community College Foundation – to support food, utilities and rent in the Student Emergency Fund
Epilepsy Association – for emergency assistance and transportation support
Kidney Foundation of Ohio – for transportation support in its emergency assistance program
Malachi Center – COVID-19 relief & recovery
Catholic Charities Corporation – for utility assistance
Project HOPE of Cleveland, Inc. – for emergency assistance in health outreach
Hitchcock Center for Women – for emergency assistance
Little Africa Food Collaborative – for emergency food delivery and support program
The Sisters of Charity Foundation of Cleveland offers deep gratitude for these essential organizations and the difficult work they face in ensuring community members are safe and supported. Learn more about the Good Samaritan grant program here. Please note that SOCF Cleveland is no longer accepting applications for the program.
---