Garden Boyz of Building Healthy Communities abuzz about World Bee Day
---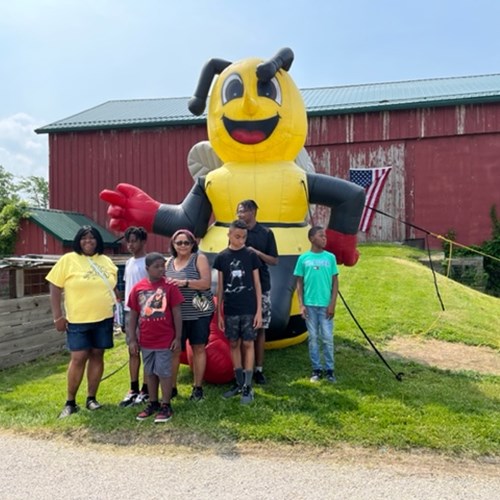 In addition to growing produce and selling it at their bi-weekly farmer's market, the Garden Boyz of Building Healthy Communities raise bees and help spread the word about beekeeping. A group of Garden Boyz recently celebrated World Bee Day with a trip to Queen Right Colonies in Spencer, Ohio.
The Gazette (Medina) covered the event and highlighted the Garden Boyz.
The full text of the article is below or available here.
by Bob Sandrick
The Gazette
John Rose knows bees. He conducts bee research in Litchfield and teaches beekeeping at bee clubs throughout the area. Rose often must wear protective clothing when handling bee colonies but that wasn't the case Saturday at Queen Right Colonies, where he showed visitors how to open their own colonies.
"These are the most mellow bees I've ever seen," Rose said. "There's no need to wear anything."
On Saturday, Queen Right celebrated World Bee Day, although one day late. The United Nations designated May 20 as World Bee Day to raise awareness of the vital role bees play in the environment and feeding the planet.
"Bees sustain the food chain," said Sheila St. Clair, who co-owns Queen Right with her husband Denzil. "We know that if we lose honeybees today, we would lose 30 percent of the food chain. You would have no pollination."
Apples are one example of a food that needs pollination from bees.
"If apple blooms are not pollinated correctly, you get misshapen or smaller apples," St. Clair said.
In addition to Rose's bee colony lessons, World Bee Day at Queen Right featured farm tours, visits with farm animals, rides in an Amish buggy and scavenger hunts and games for children. Visitors also browsed Amish Haus, a former Amish home converted to an antique and gift shop.
In addition, Alenka Jerak, consulate general of the Republic of Slovenia Cleveland, spoke at Saturday's event. It was the nation of Slovenia, home to more than 11,000 beekeepers and beekeeping innovators, that urged the United Nations to declare a World Bee Day in 2017.
Peggy Garnes, president of Ohio State Beekeepers Association, stopped by Queen Right Colonies on Saturday. Her organization represents more than 8,000 beekeepers in Ohio and makes presentations to schools throughout the state.
"We try to impart to middle school children the importance of honeybees and planting good forage for the bees, so they are well fed and stay healthy," Garnes said.
"The more we educate children, the more they will plant trees and shrubs, which the bees pollinate," Garnes said. "That's more important than planting flowers."
The word about bees is spreading among young people. Garden Boyz, a group of young market gardeners and beekeepers from the Cleveland area, drove all the way to Queen Right Colonies for World Bee Day on Saturday.
Garden Boyz – part of Building Healthy Communities, a ministry of Sisters of Charity Health System – grows two gardens, one on East 35th Street, the other on East 76th Street, in Cleveland.
"We order our bees and buy supplies here (at Queen Right)," said Sharon Glaspie of Garden Boyz.
---