ECRC Community Chronicle: Focusing on fathers
---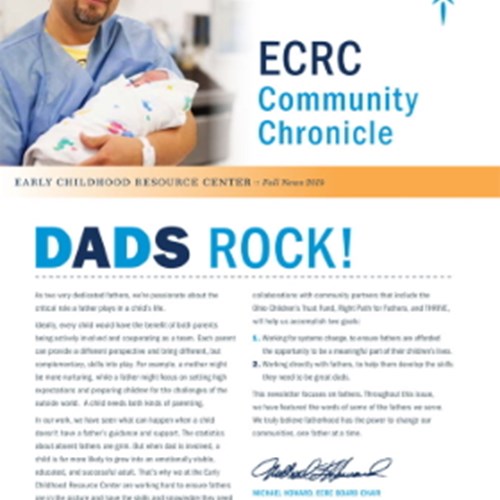 The Early Childhood Resource Center (ECRC) has a number of programs and services to ensure fathers have the skills and knowledge they need to be active parents. The ECRC approaches this work with two goals: Working for systems change, to ensure fathers are afforded the opportunity to be a meaningful part of their children's lives and working directly with fathers, to help them develop the skills they need to be great dads.
The latest issue of the ECRC Community Chronicle newsletter focuses on fathers, highlighting stories of some of the fathers served and the importance fatherhood plays in helping change communities.
Following is an article from the newsletter about two child care centers that receive support from the ECRC to promote school readiness through parent engagement and quality improvement. Read the full newsletter here.
The halls of Emmanuel Christian Academy are filled with photos of smiling dads engaged with their children, both at home and at the child care center. It's pretty evident that dads are a big deal. As a result, fathers now ask to be photographed and added to the display.
Emmanuel Christian believes fathers and other male family members play an important role in children's education and socialization. The center embraces father engagement by celebrating fathers and planning opportunities for them to take part in their children's learning experiences. This past year, the center has established an open door policy. Fathers visit at their convenience and read to the children. The kids and dads have a great time.
According to Director Charlene Carroll, dads also enjoy the Parent Cafés, where they get to talk with other dads about the challenges and joys of raising young children. One father said that because he didn't have a great school experience, he appreciates being made to feel welcome when he comes to his child's school. Another dad said that he grew up without his own father, and he's glad that there are chances for him and other fathers to share and discuss without fear of judgment.
Kozmic Korner Early Learning Center has also embraced father engagement by reaching out and planning events. Fathers and daughters dressed to the nines for a wellattended father-daughter dance, complete with a dance contest.
According to Director Vicki Miller, father engagement was a much-needed remedy for one Kozmic Korner student. She was struggling with aggressive and defiant behaviors in the classroom. Through participating in Parent Cafés and the Father Reads program, the student's father developed a relationship with center staff members. He became comfortable working with them to address concerns about his daughter. As a result, her outbursts have almost been eliminated and she seems to enjoy learning. This is just one example of how father engagement can strengthen a child's social-emotional development.
Emmanuel Christian and Kozmic Korner are two of 24 Akron child care centers receiving support from the Early Childhood Resource Center through the STARS (Supporting Teachers and Ready Students) program, which is funded by the GAR Foundation to promote school readiness through parent engagement and quality improvement.
The Early Childhood Resource Center is a ministry of the Sisters of Charity Health System.
---