ECRC Community Chronicle: Books - the magic our children need
---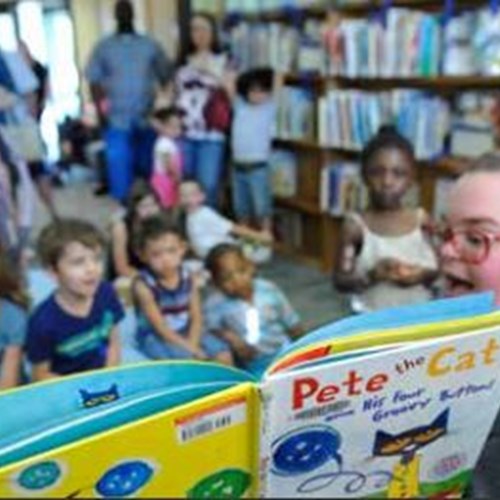 The Early Childhood Resource Center works to promote the healthy development of young children by: strengthening families, improving the quality of early learning experiences, increasing school and community readiness, and informing public policy. The latest issue of the ECRC Community Chronicle newsletter highlights the importance of getting books into homes and provides a number recommendations for children's books for summer reading, while also providing an update on the ECRC partnership with the GAR Foundation to give Akron's youngest children a school readiness boost, plus important news and more.
The following excerpt is from a letter from the executive director and board chair that appears in the newsletter. Red the complete newsletter here.
Books are magic for our children. We see it at the ECRC's Canton location every day: Inspiration Station programs and the playscape are great fun, but nothing widens little eyes quite like getting to choose a brand new book from the bottomless book drawer.
Getting books into as many homes as possible is one of our constant goals. That's because researchers have repeatedly found that just having books in the home strongly correlates with academic success. "Even a little bit goes a long way," in terms of the number of books," to the extent that "having as few as 20 books in the home has a significant impact on propelling a child to a higher level of education, and the more books, the greater the benefit." Beyond mere academic success, though, access to books is associated with positive behavioral and psychological outcomes as well.
Early experience with books contributes greatly to success in learning to read. That's the concept behind Stark Library's new early literacy initiative called 1,000 Books before Kindergarten. For every hundred books logged, the child gets a prize. A thousand books is not as daunting as it may sound, considering that just one book a night equals nearly 400 by year's end. The children's library in our Canton location is a Stark Library branch, so we're busily enrolling families in the 1,000 Books effort.
It's simple, powerful, and irrefutable: there's not much in our modern world that's more magical than simply reading to a child.
The Early Childhood Resource Center is a ministry of the Sisters of Charity Health System.
---