Cleveland Clergy Alliance, St. Vincent Charity team-up to vaccinate seniors
---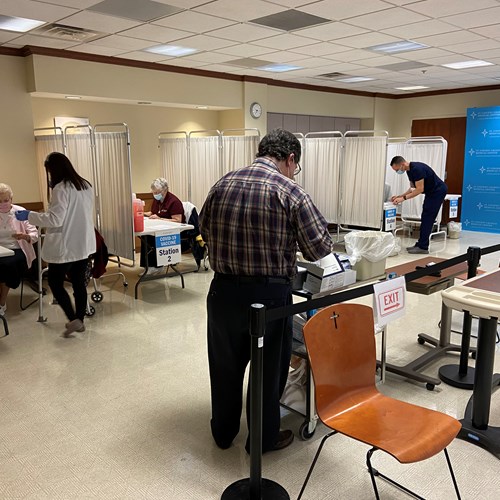 Technology, confusing distribution plans and limited supply have made it frustrating and difficult for many seniors to secure a COVID-19 vaccination. Those who are homebound, live alone, lack transportation or reliable social connections are at an even greater risk of not receiving the vaccine.
Understanding these barriers, Cleveland Clergy Alliance and St. Vincent Charity Medical Center are working together to ensure Cuyahoga County seniors have access and transportation to COVID-19 vaccinations.
Cleveland Clergy Alliance works with more than 50 churches in the Cleveland area to connect with seniors and assist with transportation to doctor's appointments, grocery shopping and more. During their home visits and check-ins, Clergy Alliance community navigators saw a significant interest in the vaccine, but the process of scheduling appointments was overwhelming.
"The partnership with St. Vincent Charity Medical Center is a blessing! This wonderful collaboration of access and transportation has helped overcome vaccination hesitancy for many in the Black and Brown community," said Reverend Lorenzo Norris, Cleveland Clergy Alliance President and CEO.
Since January, Cleveland Clergy Alliance and St. Vincent Charity have coordinated COVID-19 vaccinations for more than 200 senior citizens. Each week, Clergy Alliance community navigators work with parishes to contact individuals eligible for a vaccine and then arrange an appointment time and transportation to and from St. Vincent Charity.
"Organizations like the Cleveland Clergy Alliance have been essential in our effort to get as many people vaccinated as possible and in ensuring community-wide access to this precious resource," said Janice G. Murphy, MSN, FACHE, President and CEO, St. Vincent Charity Medical Center. "In the spirit of our mission, it's essential that we extend access to our neighbors and that means more than just offering appointments. We are so grateful to work with Cleveland Clergy Alliance on eliminating obstacles."
About Cleveland Clergy Alliance
The Cleveland Clergy Alliance in partnership with the Cuyahoga County Division of Senior and Adult Services, works collaboratively to connect seniors to services. Community Navigators assist seniors by removing barriers to services including: medical, insurance, transportation, dental, mental health, financial literacy, housing, technology training, food deprivation, and any unidentified unmet needs.
The Cleveland Clergy Alliance works to increase access to available programs and services; break the cycle of social isolation; and aims to prepare pre-retirees to navigate the systems that will support them in aging safely in their communities with dignity and respect. Navigators also observe each individual for any signs of neglect, self-neglect, or abuse for referral to the Cuyahoga County Division of Senior and Adult Services (DSAS) and Senior Adult Protective Services (APS). Call (216)727-1020 or visit at www.theclevelandclergyalliance.org for details about our services.
---