Cleveland Central Promise Neighborhood Champions of Central nominations due by October 27
---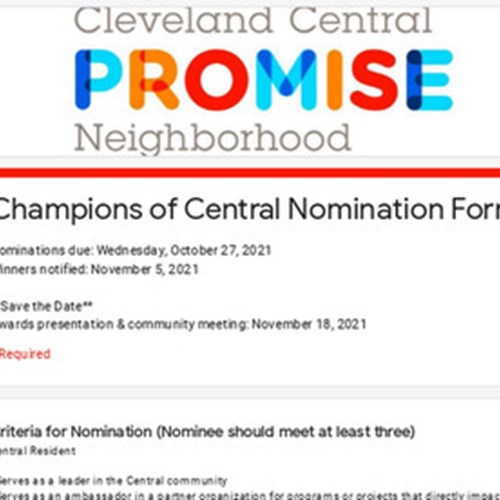 The Cleveland Central Promise Neighborhood annually honors individuals who have made significant contributions to the vibrancy of the Central neighborhood through its Champions of Central awards. Nominations for this year's Champions of Central awards are due by Wednesday, October 27. 
Champions of Central are ideally either residents of the Central neighborhood or staff members at Central-serving organizations who help partnering organizations fulfill their missions and make significant contributions to the vibrancy of the neighborhood.
Click here to fill out the nomination form
Nominations are due Wednesday, October 27. Winners will be notified by Friday, November 5, and will be celebrated at the Promise Neighborhood community advisory council meeting on November 18 at 4 p.m.
Nominees should meet at least three of the following criteria:
Central Resident
Serves as a leader in the Central community
Serves as an ambassador in a partner organization for programs or projects that directly impact the Central community
Serves as a Cleveland Central Promise Ambassador
Has made a significant impact in the Central community by way of leading or participating in an activity or program in the area(s) of health, education and/or advocacy
Community Partner Staff
Demonstrates a passion for the Central community
Demonstrates commitment to the mission and vision of the partner organization
Continuously goes above and beyond the "call of duty" to help ensure Central families have access and support to the resources available to them within the partnering organization
Serves or has served as a change agent within an organization in a way that has had a direct impact on the families within the Central community
Upholds a commitment to community collaboration which remains evident in their daily work
The Sisters of Charity Foundation of Cleveland is the lead partner of the Cleveland Central Promise Neighborhood.
---