Catholic Community Connection summer fellow reflects on experience working at Regina Health Center
---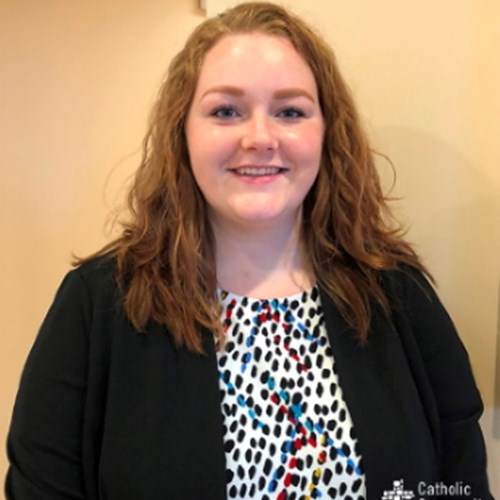 Jillian Doherty, a senior from John Carroll University, has been spending her summer interning at Regina Health Center as part of the 2019 Catholic Community Connection Summer Fellows Program. The program is a 10-week internship that offers students from Catholic colleges real-world, paid work experience at Catholic ministries throughout Northeast Ohio. This competitive fellowship prepares students mentally, professionally and spiritually as they make decisions regarding their future careers and post-graduate work.
Below is the text of an article about her experience working in human resources at Regina Health Center. The article is also available here.
Jillian Doherty is a rising senior from John Carroll University, where she majors in industrial/organizational psychology. She is also minoring in leadership development. Jillian is from Warren, Michigan. As a student at John Carroll, she is involved with the Office of Student Engagement and the Center for Service and Social Action. Jillian has also previously served as an Advocacy Intern for Lutheran Metropolitan Ministry.
Through her Fellows experience, Jillian has had the opportunity to assist with a variety of human resource related tasks at Regina Health Center. For example, Jillian has assisted with editing the employee handbook, as well as assisting other staff members in reviewing the applications of perspective employees. Jillian has enjoyed working in the human resources department and developing an understanding of managing new and existing employees of an organization.
Another aspect of the Fellows experience which Jillian has enjoyed is the opportunity to get to know a religious sister. Jillian shared that she has never had the opportunity to sit down and talk with a religious sister before. Jillian's mentor is Sr. Kathy Andrews, CSA, and they have developed a close relationship. "Sr. Kathy is amazing. She is always so upbeat and positive. She has a very strong devotion to the faith and is kind to everyone who she encounters. I am glad that my first "religious sister friend" has been her." Jillian continued to share that Sr. Kathy has helped her realize the work and impact of the religious sisters.
"The sisters are amazing. I never realized the types of leadership roles they have and how they built some of the organizations from the ground."
As she reflects on her experience at Regina Health Center, Jillian is grateful for the opportunity to learn about human resources firsthand. "The Summer Fellows experience has helped me continue to learn and build off of the knowledge I have gained from my courses at John Carroll. Everyone at Regina has been encouraging and has helped me learn more about this field. This experience has served as an affirmation for me to pursue this type of work in the nonprofit area."
---