Bishop Nelson Perez visits Light of Hearts Villa
---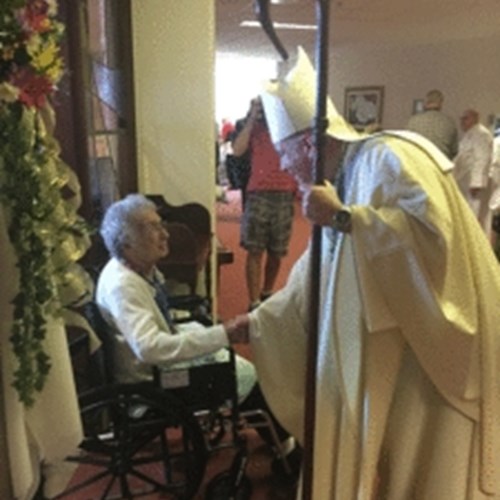 Bishop Nelson Perez, head of the Catholic Diocese of Cleveland, celebrated Mass at Light of Hearts Villa on May 22 with residents, employees and supporters. A reception for the bishop and members of the Light of Hearts Villa Board of Directors and other supporters followed Mass.
The Catholic Diocese of Cleveland posted an article about the bishop's visit on its website. The full text of the article is below.
When one door closes, another opens. That was the case for what is now Light of Hearts Villa.
Lumen Cordium (Latin for Light of Heart) High School closed in 1987 due to declining enrollment, but that didn't stop the Vincentian Sisters of Charity from continuing God's work. In 1989, another set of doors — Light of Hearts Villa – opened, so the ministry continues.
In fact, for many of those gathered on May 22 at Light of Hearts Villa for Mass and a reception with Bishop Nelson Perez, the building had been their high school or that of their mothers.
"What is so special about Light of Hearts?" asked the bishop as he began his homily. Companionship, good care, faith, love and wonderful residents were a few of the answers. The bishop gave a special mention to one resident, Mary Tench, who is 106 years old.
As Bishop Perez told those in attendance, the mission was kept alive through the work of the sisters. He pointed out how the work that they do, not only for the residents, but also those in the community, was very similar to the day's Gospel.
The Gospel was the story of the fish and the loaves, something that is familiar to most people. As we get older, we tend to be a bit more jaded, the bishop said, much like the apostles Philip and Andrew were in this story.
He told those gathered to think about what their conversation with Jesus would have been like at that moment.  Jesus asked them to feed the crowd and Philip and Andrew's response, in modern terms was, "Are you nuts? We don't have enough food to feed all of them!" And Jesus would have replied, "Wrong answer!"
He said, in both versions of this Gospel reading, Jesus didn't like the answer he received from his cynical disciples. He said to them, "Ye of little faith. Tell the crowd to sit, let me do what I have to do as you watch and learn."
But there was a little boy in the crowd who had food, the bishop said, adding that the boy could have simply taken his food and gone home. But he didn't. In his innocence, open-mindedness and generous heart, he turned to Jesus and said "here's what I have." This child didn't question Jesus. He watched and learned.
Bishop Perez told everyone that just as the loaves and fishes were multiplied, so too are the gifts and the work of those at Light of Hearts. From the caretakers to the donors, their gifts are multiplied and continue to grow and work with those not just in the Light of Hearts community but also the community in which they live.
He finished by reminding everyone to be grateful for the generosity of the heart, of God's love for each of us and how we can see God's love in the people he places around us.
Father Tom O' Donnell and Father Bill O'Neill concelebrated Mass with the bishop.
Immediately following Mass, there was a reception for the bishop and members of the Light of Hearts Villa board of directors and other supporters.
To continue the Gospel theme, a special thank you was extended to all who helped with Light of  Hearts' successful Seton Safety Net for Seniors program, which helps seniors age 62 and older who have financial shortfalls for purchasing food. The program provides bags of groceries, Meals on Wheels or Giant Eagle gift cards, depending on individual assessments.
Light of Hearts Villa was founded in 1989 and is sponsored by the Sisters of Charity Health System. Residency is open to seniors of all faiths who are 62 and older.
---