Bishop Edward Malesic honors caregivers and celebrates the Feast of St. Vincent de Paul at St. Vincent Charity Medical Center
---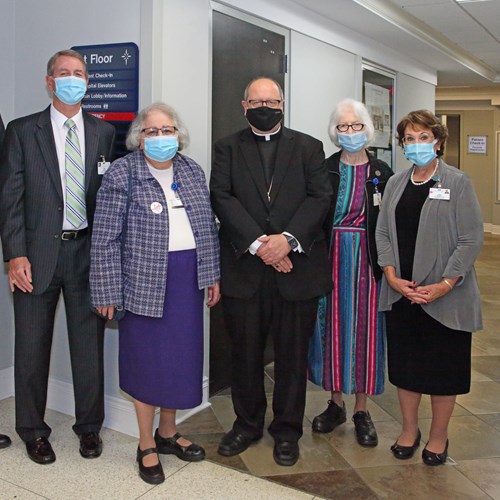 The Most Reverend Edward C. Malesic, JCL, made his first public appearance a little more than two weeks after being installed as the 12th Bishop of the Catholic Diocese of Cleveland with a visit to St. Vincent Charity Medical Center. The hospital is celebrating its 155th anniversary. The bishop also celebrated Mass in the hospital chapel in honor of St. Vincent de Paul, the hospital's namesake, whose feast day is Sept. 27.
The Catholic Diocese of Cleveland published a recap of the installation here. The full text of the recap is also below.
Cleveland 19 News also aired a story about the bishop's visit, which can be viewed here.
Bishop's visit makes namesake's feast day special for St. Vincent Charity Medical Center
News of the Diocese
September, 30, 2020
His first public appearance since being installed as bishop of Cleveland was a short trip – just over a mile – from his office at Cathedral Square Plaza in downtown Cleveland. But Bishop Edward Malesic said he was happy to be able to visit St. Vincent Charity Medical Center in downtown Cleveland on Sept. 29. The hospital, a ministry of the Sisters of Charity Health System, is celebrating its 155th anniversary. The bishop also celebrated Mass in the hospital chapel in honor of St. Vincent de Paul, the hospital's namesake, whose feast day is Sept. 27. Father Isidore Munishi, AJ a hospital chaplain, concelebrated the Mass.
Attendance was limited because of coronavirus restrictions, but the liturgy was streamed throughout the hospital on its in-house television channel.
Front line workers, including nurses, doctors, environmental service personnel, etc. were honored during their shifts with a special lunch on Sept. 29. Bishop Malesic joined some of the employees and hospital leadership at lunchtime, chatting and getting acquainted with the hospital and its mission.
After lunch, he met with senior leadership and some board members from the hospital and the Sisters of Charity Health System, which sponsors St. Vincent Charity.
"We are so happy you could join us," said Sister Judith Ann Karam, congregational leader for the Sisters of Charity of St. Augustine. The sisters opened the hospital on Oct. 10, 1865 and it has remained in the same location ever since.
Before Mass, she gave a brief history of the congregation, which was founded by Bishop Amadeus Rappe, the first bishop of Cleveland. She explained how he recruited four women from his native France to come to Cleveland in 1851 to help with health care in the growing city of Cleveland. One long wall in a hospital hallway serves as a timeline for the sisters and their ministries.
Soon after their arrival, the four women – two professed sisters and two postulants – began the ministry of health care that continues today. They served as the first public health nurses, ministering among the poor and sick, caring for people in their homes and at St. Joseph Hospital, which they founded in what was then Ohio City and now is a neighborhood on Cleveland's Near West Side. Unfortunately, the hospital closed a few years later. The sisters also established St. Vincent Orphanage.
Sister Karam explained how St. Vincent Charity Hospital was founded in 1865 – just after the Civil War ended – and how the sisters continued to expand their ministries of health care, welfare and education. The hospital is named after St. Vincent de Paul, the French saint who is the patron saint of charitable societies.
Milestones for the hospital include performing the first open heart surgery in the Midwest in 1956, serving as the site of one of only two psychiatric emergency departments in the state and the hospital's longtime commitment to helping in the battle against substance abuse and addiction. In fact, Sister Ignatia Gavin, CSA, who founded Rosary Hall at St. Vincent Charity to minister to alcoholics, was among the first to recognize alcoholism as a disease. It also serves offers a program for training hospital chaplains and has nurtured religious vocations over the years. "I'm one of them," said Sister Karam, who over the years worked as a pharmacist, hospital administrator and CEO of the health system in addition to her role in congregational leadership.
"We are so proud of this sacred place," she said, adding it's part of a legacy that began in 1865. "And today we stand with our Bishop to celebrate 155 year of caring."
Bishop Malesic congratulated the sisters on what he called "an amazing history." He said when he drove into the city, he saw the hospital and is glad for the opportunity to visit and learn about it. "What a blessing for our diocese," he said. "Thank you for all you do."
During the homily, Bishop Malesic said the Sisters of Charity of St. Augustine heard the call of Bishop Rappe and heard Jesus' voice calling, so they came to serve in many way. "From the seeds of this hospital, other ministries grew in other areas," he said, noting how the mission expanded into Toledo, Sandusky, Canton and Columbia, South Carolina.
The bishop said women may not think they have much power in the Church, "but look at what you've done with the power of teaching, nursing and your power of persuasion."
He also thanked the sisters and the health care system for sponsoring the livestream of his installation Mass on Sept. 14, which enabled people across the country and beyond to watch the event.
"We give thanks to God for your 155 years of caring for the poor and marginalized," he said, adding that the word hospitality includes the word hospital.
The bishop noted that Sept. 29 is the feast of the archangels. "I can't help but wonder how many angels have visited this hospital? How many angels treated people here with kindness? How many angels helped lead people through the valley of death? And how many angels kept watch over patients?" he asked. "There are angels of mercy in every hallway, office, room and operating room at St. Vincent Charity Medical Center."
Bishop Malesic said we love God and love our neighbor and sometimes people we love also love us so much that there is a transformation – a connection between heaven and earth. "That connection takes place in a special way at Mass," he said, adding that charity is above all things as we seek to serve the Lord.
After Mass, hospital president Jan Murphy spoke briefly, thanking the sisters "for setting forth our mission to provide charity and care for all regardless of the ability to pay." She also thanked Tom Strauss, president and CEO of the Sisters of Charity Health System, for their support. "We are blessed beyond measure with your support so we can continue our mission."
Bishop Malesic also offered his thanks to the hospital workers for their hard work and dedication throughout the ongoing pandemic. "I think you need to hear it from your bishop," he said, again stressing his appreciation for their ministry.
"Your faith and emotions, patience and psyche have been tested," he said, "but we come out of this stronger. Please let all know of our deep appreciation for what you do."
---