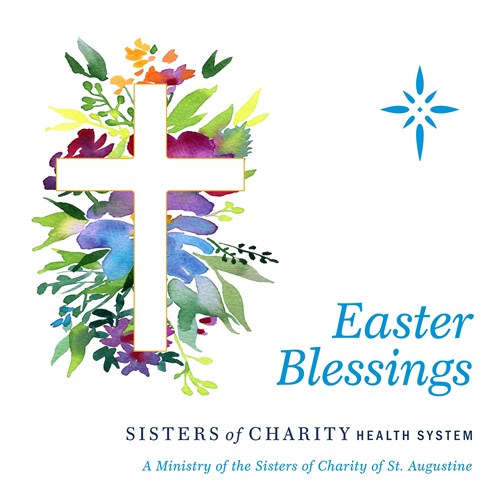 "He departed from our sight that we might return to our heart, and there find Him. For He departed, and behold, He is here."
— St. Augustine of Hippo
In this season of resurrection and new life, may we rejoice in the miracle of Easter and the many blessings of God's love. Thank you, always, for your support and partnership with our family of healing ministries and their devoted service to individuals, families and communities in Ohio and South Carolina.
Together, we ask almighty God:
Continue to work in us the wonder of your grace, forming us as your people committed to justice and mercy, healing and compassion, in a world burdened by violence, injustice and indifference. Pour forth your blessing on us, renew and refresh us for our mission, making us effective leaders and wise stewards of your bountiful gifts.
This day and every day, we carry forward the Sisters of Charity of St. Augustine's enduring legacy of responsive ministry, creative stewardship and ongoing quest for social justice.
A Blessed Easter,
Janice G. Murphy, MSN, FACHE
President & CEO
Sisters of Charity Health System
The Sisters of Charity Health System was established in 1982 as the parent corporation for the sponsored ministries of the Sisters of Charity of St. Augustine in Ohio and South Carolina. The Sisters of Charity of St. Augustine is a congregation of women religious that, since founding in 1851, continues a faith-based legacy of high-quality, compassionate care in partnership with its co-ministers, who are the heart and hands of the ministry. The health system solely owns three health care ministries, six outreach organizations, and three grantmaking foundations that address causes and consequences of poverty.
The Sisters of Charity Health System includes the following ministries:
IN CLEVELAND, OHIO
Building Healthy Communities
Catholic Community Connection*
Joseph & Mary's Home
Light of Hearts Villa
Regina Health Center
Sisters of Charity Foundation of Cleveland
St. Vincent Charity Community Health Center
St. Vincent Charity Health Campus
IN CANTON, OHIO
Early Childhood Resource Center
Sisters of Charity Foundation of Canton
AND ACROSS SOUTH CAROLINA
Healthy Learners
Sisters of Charity Foundation of South Carolina
South Carolina Center for Fathers and Families
---