Sisters of Charity Health System leadership joins First Friday Club of Cleveland to share pandemic insights
---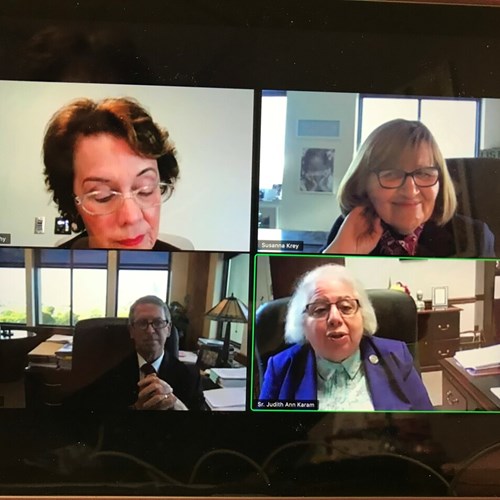 Sisters of Charity Health System leadership recently joined the First Friday Club of Cleveland to discuss what it means for faith organizations to respond to the COVID-19 pandemic. "We can't go back to 'normal,'" said Sister Judith Ann Karam, CSA, chair, Sisters of Charity Health System, as she opened a virtual program for the First Friday Club, which provides a forum for Catholic thought and inspiration.
The Catholic Diocese of Cleveland published a recap of the program here. The full text of the recap is also below.
"We can't go back to 'normal,'" said Sister Judith Ann Karam, CSA, chair, Sisters of Charity Health System, as she opened a virtual program for the First Friday Club of Cleveland on Oct. 1.
"Health and Human Services: Navigating Through the Pandemic with Faith" was the topic of the program that featured Sister Karam as moderator and Janice Murphy, president and CEO, St. Vincent Charity Medical Center; Tom Strauss, president and CEO, Sisters of Charity Health System; and Susanna Kray, president, Sisters of Charity Foundation of Cleveland, as panelists. They provided insight on how the health care system leaders responded to the coronavirus pandemic, how it touched their faith and what they see moving forward.
Each panelist talked about how the pandemic has impacted various aspects of health care, social services and more. Sister Karam also provided a brief history of the Sisters of Charity of St. Augustine, whose first members traveled in 1851 from France to the Diocese of Cleveland – established in 1847 – at the request of Bishop Amadeus Rappe, the first bishop. He founded the new congregation of sisters who immediately got to work serving as Cleveland's first public health nurses. They established a hospital in Ohio City that was transitioned to an orphanage, thus meeting a pressing need, Sister Karam said. In 1865, the sisters founded St. Vincent Charity Hospital in Cleveland. Although recently rebranded as St. Vincent Charity Medical Center, the hospital continues to operate at the same location on the outskirts of downtown Cleveland.
Sister Karam, who has had a lengthy career in health care, serves as congregational leader for the Sisters of Charity of St. Augustine.
"Our story spans 169 years," she said, noting that the sisters responded to a call from God to serve.
"We have wonderful co-ministers who work with us to enable our work. We never did it alone," she said.
She reflected in the 1918 influenza pandemic, recalling that one diocesan priest pondered what history would say about their efforts. The sisters ministered throughout the pandemic to assist the ill and their families.
"Here we are again in extraordinary times with a pandemic and civil unrest," Sister said. "We pause to pray to the Holy Spirit for the gifts of challenge and change that point us to our ministries."
She asked the panelists to share how their ministries responded to the pandemic.
Strauss said the sisters' health system serves three dioceses: Cleveland, Youngstown and Charleston, South Carolina. In addition to SVCMC, the system operates hospitals in Columbia, South Carolina (in the Diocese of Charleston) and Mercy Medical Center in Canton (Diocese of Youngstown). The health system also operates other ministries including Regina Health Center, Light of Hearts Villa, Joseph's Home and Building Healthy Communities.
He talked about how these entities worked assist employees and residents impacted by the pandemic. At Mercy Medical Center, a personal grocery shopping program was implemented for employees that filled their grocery list with items from the hospital so they didn't have to go to the grocery store. "It was a way of protecting the front line workers," Strauss said.
At Joseph's Home, a transitional housing ministry in Cleveland for recuperating, homeless men, telehealth opportunities were implemented and expanded, helping meet residents' medical needs and keeping them connected with their families.
At Light of Hearts Villa and Regina Health Center, which offer assisted living, intermediate care and nursing care, Strauss said they worked to keep residents and staff healthy throughout the pandemic, noting they did not have a single positive case of COVID-19.
"Health care heroes go beyond the walls of a hospital," he added.
At SVCMC, Murphy said the pandemic raised awareness of the need to help keep both patients and hospital staff safe, so increased safety protocols were established and implemented. Cleveland area hospitals also communicated and collaborated to ensure they had enough protective gear to keep their staffs safe. Negative-pressure units were set up at SVCMC to treat COVID patients, she said.
As a former nurse, Murphy admitted it was difficult to keep patients separated from their families. The hospital's pastoral care department bought iPads to allow chaplains to talk and pray with patients and to help them connect with family members.
"It also was hard to shut our doors to our Central neighborhood neighbors," Murphy said, noting the hospital has outreach programs to help feed and care for area residents in need. They filled 1,000 bags with hand sanitizer, masks and information that were distributed in the neighborhood. The sisters also sheltered some staff members who were not able to go home.
"Not one caregiver was infected," Murphy said, adding, "I believe it was the hand of God."
Kray said the community "was significantly impacted by the pandemic" and the foundation helped in three ways: an internal response, collaboration with the community and a close relationship with the sisters to respond to needs.
To help with safety, they networked to ensure enough personal protective equipment was available. Kray said the foundation also worked with homeless service providers to monitor and assist this vulnerable population. They worked to deconcentrate shelter populations and move some people to area hotels, which opened a new opportunity for temporary housing.
"We may never return to shelters like we had before," Kray said.
Health and mental health issues, as well as connectivity issues were addressed. In addition, a Fast Response Team helped organizations get needed funds. The foundation established a Rapid Response Fund and raised nearly $9 million to provide assistance, including housing for furloughed people. Another $3 million was raised during a second phase to assist with needs in the community.
Kray said 61 sisters participated in localized efforts to help identify and steer funds to meet immediate needs, including helping a food pantry in Cleveland's Slavic Village neighborhood, assisting a grandmother who was caring for three grandchildren because their mother was dying and helping three women to get rent deposits so they could leave a shelter for their own housing.
"It was a tremendous grassroots approach," Kray said.
Sister Karam also asked the panelists to reflect on how their faith helped them during the pandemic.
Strauss, who is in his 45th year in the health care industry, said this is his first experience in a faith-based system. He recalled how powerful it was when the sisters blessed his hands after he joined their ministry.
"We are the hands and feet of the Sisters of Charity of St. Augustine," he said. "We never do this alone." He said employee interactions are important. He also mentioned the Building Healthy Communities initiative that offers book clubs and gardening opportunities. They also created mindfulness activities for Facebook to help reduce stress and isolation during the pandemic and offered employee support.
Murphy said faith is central to the SVCMC mission, noting Trinity Chapel in the hospital is available at any time for prayer. Sister Miriam Erb, CSA, vice president, mission and ministry, starts each day with prayer over the hospital's public address system and a serenity room was created to allow staff an opportunity for solitude and prayer.
She said a large number of hospital staffers had to be furloughed when non-elective surgeries were suspended early in the pandemic. The St. Vincent Fund was established to help the furloughed employees meet immediate needs. "We experienced some remarkable generosity," Murphy said. "Our faith got us through and continues to help us."
Kray said the pandemic impacted her personally. "COVID humbled me to recognize the privilege and grace I have," she said, adding that it also served as a reminder that we are obligated to recognize the rights of the poor and to give them special recognition.
The foundation continues to work to provide affordable housing, Kray said, with the Housing First initiative completing its 13th building this year. "A home, a nest is the most stabilizing thing we can provide," she said, adding, "Everyone deserves respect and dignity."
Providing that respect and dignity with what Kray called "authentic listening" and responding to the person's needs are vital.
Sister Karam also asked how the panelists expect health and human services to change as a result of the pandemic.
Strauss mentioned racial justice and ensuring access to needed services for all God's people. He said racism is a public health emergency and noted it factors into the access and equity of health care. At Mercy hospital, Strauss said there was a program devoted to racism and health care. He said the next steps are confronting and ending the problem.
Murphy said the pandemic highlighted the urgent need for behavioral health services, including substance abuse and addiction programs. Lack of work, lingering illness and/or COVID deaths have scarred the community and will have a long-lasting effect. She said they are working on an integrated model to care for the whole patient and address the multiple needs of an individual.
Kray said she anticipates there will be an increased demand for help from those living in poverty, which may be exacerbated by effects of the pandemic. The educational impact of children struggling in a virtual world in a city with less-than-ideal connectivity is another result of the pandemic. "It's affecting the total social fabric," Kray said, and is compounded by social justice challenges.
Auxiliary Bishop emeritus Roger Gries, First Friday Club chaplain, shared the story of a child who saw a sign painted on a building by a frustrated person that read: "God is nowhere."
"The little girl said to her mother, 'Look, mom. How wonderful,'" as she pointed to the sign, the bishop said. The mother looked perplexed until her daughter said, "The sign says God is now here," Bishop Gries said, offering another perspective on the message.
"Thank you for doing God's work and for being the hands and feet of Jesus," he added.
---