Regina Health Center continues the legacy of compassion and care in the time of COVID-19
---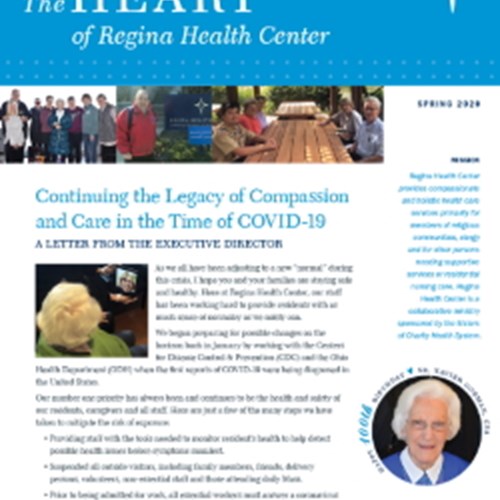 In the new issue of The Heart of Regina Health Center newsletter, Executive Director Mark Yantek writes about the steps that have been taken to mitigate the risk of exposure to COVID-19, how residents are staying engaged and an update about building renovations wrapping up. There is also a story about how one resident has been helping the homeless during the pandemic, additional news, upcoming events, stories of how Regina Health Center carries out its mission, and more. Regina Health Center is a ministry of the Sisters of Charity Health System.
Read the full newsletter here.
A LETTER FROM THE EXECUTIVE DIRECTOR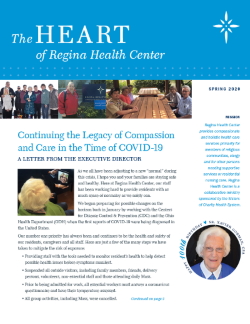 As we all have been adjusting to a new "normal" during this crisis, I hope you and your families are staying safe and healthy. Here at Regina Health Center, our staff has been working hard to provide residents with as much sense of normalcy as we safely can.
We began preparing for possible changes on the horizon back in January by working with the Centers for Disease Control & Prevention (CDC) and the Ohio Health Department (ODH) when the first reports of COVID-19 were being diagnosed in the United States.
Our number one priority has always been and continues to be the health and safety of our residents, caregivers and all staff. Here are just a few of the many steps we have taken to mitigate the risk of exposure:
Providing staff with the tools needed to monitor resident's health to help detect possible health issues before symptoms manifest.
Suspended all outside visitors, including family members, friends, delivery persons, volunteers, non-essential staff and those attending daily Mass.
Prior to being admitted for work, all essential workers must answer a coronavirus questionnaire and have their temperature assessed.
All group activities, including Mass, were cancelled.
The Brighter Side
COVID-19 has certainly altered life here at Regina Health Center and for those with loved ones here who can't see them, but that doesn't mean we can't still have a little fun and stay connected virtually. The Regina Health Center Activities Department has done a great job making sure residents stay engaged and as active as possible. Each day they continue to find new ways to keep residents enriched and involved.
They deliver a daily chronicle with fun facts and brain games; host "Thursday socials on the road" by delivering special treats and wine and cheese to resident rooms; have daily newspapers and new puzzles and arts and crafts materials available for each unit; and more. We have also added video calling tools like FaceTime, Zoom and Facebook Messenger for residents and families to combat social isolation and to stay connected. Pastoral Care has greatly increased the amount of live-streamed and internet-based programming to ensure the residents' spiritual needs are met.
Renovations Wrap Up
Also on the brighter side, we're thrilled to announce that the more than year-long renovation project at Regina Health Center is now complete! Renovations wrapped up with the completion of updated restrooms outside of the chapel. Resident rooms, hallways, common areas, dining areas, nursing stations and more were updated, making for more cheerful surroundings and better quality of life for residents. Through careful construction planning, we were able to minimize resident disruptions.
We continue to be proactive, investing in our facility to ensure the comfort of everyone, which includes behind the scenes with a new backup generator. The new generator is essentially a backup to the existing backup generator. This redundancy is important to ensure we never lose power if the electricity goes out. It will also deliver supplemental electricity to our HVAC system to keep our air conditioning running on warm, muggy summer days when there's a higher chance the electricity can go out.
While the COVID-19 pandemic has created many challenges at Regina Health Center, we are thankful that we have been able to weather the storm with everyone pitching in so we can provide the same compassionate care we always have.
We will continue to follow ODH and CDC guidelines to keep everyone safe and will take our directive from the State of Ohio in determining when some of our restrictions can be eased and deciding if planned events can continue as scheduled.
No one knows exactly what the future holds, but we look forward to the day when we can see everyone again and welcome loved ones and friends back to Regina Health Center.
Stay safe and be well,
Deacon Mark C. Yantek, LNHA
Executive Director, Regina Health Center
---