Mercy Medical Center employee to bike 1,000 kilometers to fight cancer
---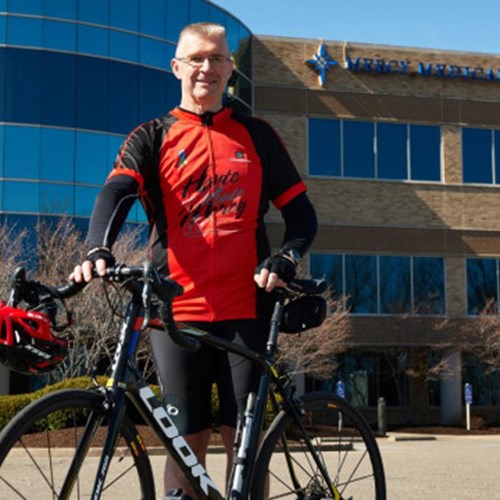 Mercy Medical Center employee Chris Christian will ride his road bicycle 1,000 kilometers (621 miles), riding through Europe starting in late August on the Haute Route to raise awareness about cancer while raising funds for Mercy Cancer Center. In 2014, Christian embarked on a cycling journey across Europe for the same cause, riding more than 1,850 kilometers on the roads of France and Italy alone for 15 days while raising more than $3,700.
"Almost everyone in my family has been touched by cancer. I have wanted to give back my entire life but didn't have the resources or the timing was wrong. Now is the time," said Christian.
Known as world's highest and toughest cyclosportive event, the Haute Route is an 800-kilometer endurance road bike challenge that will start in France August 28 and end in Switzerland September 3 and will consist of seven stages of very difficult mountain climbs over seven days.
Christian said, "The more I read about this trip the more I think I will be humbled. At age 51, it's going to be the most difficult thing I've done in my life." Christian said he hopes this effort — guaranteed to push him to his limits — will benefit people in the Canton community pushed to their limits by cancer.
He has been in training for his latest ride for nearly a year. His regimen includes a diet that's helped him lose 33 pounds; Tabata, short but high-intensity workouts, for cardio; daily bike rides; and climbing the 13 flights of steps inside Mercy.
For more information about Chris Christian's Haute Route ride, including how to donate, visit: www.cantonmercy.org/haute-route.
Mercy Medical Center is a ministry of the Sisters of Charity Health System.
---