PRESIDENT & CEO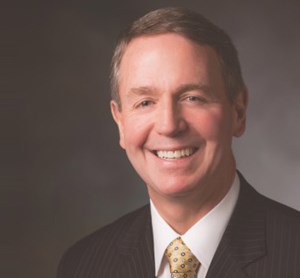 ADMINISTRATION
SISTERS OF CHARITY HEALTH SYSTEM
INTERIM CEOMERCY MEDICAL CENTER
Highly regarded in the health care industry nationally, Thomas J. Strauss is president & CEO of the Sisters of Charity Health System. Headquartered in Cleveland, the health system includes two Catholic hospitals, two elder care facilities, three grantmaking foundations, and five outreach organizations in Ohio and South Carolina.
Tom joined the Sisters of Charity Health System in January 2017 from CEO Advisory Network, where he was the managing member and co-founder. Consisting of five highly accomplished health care leaders who provide consulting services locally and nationally, CEO Advisory Network is affiliated with DHG Healthcare, which was ranked by Modern Healthcare as one of the top 10 private consulting firms nationally.
Tom is the former president & CEO of Summa Health System. During his 15 year tenure and under his leadership, Summa grew into a leading integrated health care system generating a $2.86 billion economic impact, making it the largest employer in all five counties it serves. Tom's strategic vision enabled Summa to grow through new ventures, service lines and acquisitions.

A dynamic leader, Tom consistently led the organization in achieving excellence in care, quality, growth and employee engagement. Summa achieved NorthCoast 99 Award for best workplaces in Northeast Ohio 11 straight years. A builder of winning teams with his servant leader management style, his vision extended beyond Summa and into the community where he was a member and chaired many boards. He also developed Centers for Health Equity at New Seasons to provide care to the underserved population. 

Prior, Tom spent ten years in leadership roles at Meridia Cleveland Clinic, where he successfully established new ventures, turned around programs and services, and increased market share. In addition, he worked at Baxter Healthcare and was a trendsetter in home therapy.

Tom received his Doctor of Pharmacy and his Bachelor of Science both from Duquesne University in Pittsburgh. Tom has dedicated his time as board chair at the Greater Akron Chamber of Commerce, and as a board member at Premier, Austen BioInnovation Institute, United Way of Summit County, TeamNEO, BioEnterprise and Akron Tomorrow. He is the recipient of the Outstanding Fundraiser Award, Community Service Award, Northeast Ohio Business Hall of Fame and was named Nonprofit Executive of the Year in the 2008 Medical Mutual Pillar Awards for Community Service. 

About Sisters of Charity Health System

The Sisters of Charity Health System was established in 1982 as the parent corporation for the sponsored ministries of the Sisters of Charity of St. Augustine in Ohio and South Carolina. The Sisters of Charity of St. Augustine is a congregation of women religious that, since founding in 1851, continues a faith-based legacy of high-quality, compassionate care in partnership with its co-ministers, who are the heart and hands of the ministry.

The Sisters of Charity Health System solely owns two Catholic hospitals: St. Vincent Charity Medical Center in Cleveland, Ohio; and Mercy Medical Center in Canton, Ohio. The health system also oversees three grantmaking foundations located in Cleveland, Canton and Columbia, South Carolina. Each foundation sponsors significant community initiatives and collaborations that address causes and consequences of poverty. Outreach organizations include Joseph's Home, a unique residential care center for homeless men in Cleveland; Early Childhood Resource Center for people working in childcare in all settings in Canton; Healthy Learners, a health care resource for children from low-income families in South Carolina; and the South Carolina Center for Fathers and Families, a state-wide organization supporting initiatives to reengage fathers in the lives of their children. The Sisters of Charity Health System also provides residential elder care services at Regina Health Center in Richfield, Ohio, and Light of Hearts Villa in Bedford, Ohio. For more information, visit www.sistersofcharityhealth.org.
ADDITIONAL LEADERSHIP ROLES
Strauss has served as a member of the boards of the
Greater Akron Chamber
Akron Regional Hospital Association
Akron Tomorrow
Austen BioInnovation Institute
BioEnterprise
TeamNEO
CONTACT
2475 EAST 22ND STREET
CLEVELAND, OH 44115
P: 216.696.5560
INFO@SISTERSOFCHARITYHEALTH.ORG