VICE PRESIDENT, COMMUNICATIONS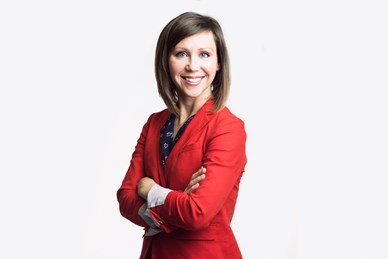 SISTERS OF CHARITY HEALTH SYSTEM
Rebecca L. Gallant is vice president of communications for the Sisters of Charity Health System, which is the corporate parent of one Catholic hospital, three grantmaking foundations, two elder care facilities, and six health and human service outreach organizations in Ohio and South Carolina.
As vice president of communications, Rebecca guides strategy and oversees implementation of communications initiatives of the health system, consistently articulating and supporting its healing mission of service to individuals, families and communities. She also leads teams, creates systems and executes campaigns that create awareness and momentum of subsidiaries, especially the Sisters of Charity Foundation of Cleveland and the behavioral health service line at St. Vincent Charity Medical Center. This summer, she celebrates twelve years of service advancing the mission of the health system's founding sisters, who served as the first public health nurses in Cleveland. In 1851, they began an enduring legacy of responsive ministry, creative stewardship and an ongoing quest for social justice that lives on today. Rebecca takes a special interest in topics including homelessness, infant mortality, substance use disorder and poverty.
Rebecca is active in the community, including with the Cleveland Leadership Center as a Leadership Cleveland class of 2021 graduate, and Bridge Builders class of 2016 graduate and class representative. She also serves on committees of: the Catholic Health Association of the United States (communications committee), The City Club of Cleveland (health care committee), National Institutes of Health and Substance Abuse and Mental Health Services Administration HEALing Communities Study (communications work group), Fund for Our Economic Future (communications committee, growth & opportunity), Northeast Ohio Hospital Opioid Consortium and The Communications Network. 
Prior to joining the Sisters of Charity Health System, she practiced at an accomplished PR agency. Throughout her time at Landau PR, her local clients included the Fund for Our Economic Future, Cleveland Plus, Facing History and Ourselves, Case Western Reserve University and the Greater Cleveland Food Bank. National clients included Taste of the NFL, Freightliner and Western Star. Her first job out of college was as PR coordinator at the Precision Metalforming Association.
She is a graduate of the E.W. Scripps School of Journalism at Ohio University.
On a personal note, Rebecca married her husband, Julien, in 2008. Together, they live in greater Cleveland with their daughter and son. She is a lifelong Girl Scout and co-leader of her daughter's troop. 
ADDITIONAL LEADERSHIP ROLES
Leadership Cleveland, 2020 – Present, class of 2021 graduate and alum
National Institutes of Health and Substance Abuse and Mental Health Services Administration HEALing Communities Study, May 2020 –Present, communications work group
The Communications Network, February 2020 – Present, member
The City Club of Cleveland, June 2018 – Present, health care committee
The Catholic Health Association of the United States, June 2016– Present, Catholic health care communications committee (national)
Cleveland Leadership Center, June 2016 – Present, CBB 2016 class representative
Fund for Our Economic Future, June 2016 – Present, communications committee, growth & opportunity
Cleveland Leadership Center, Cleveland Bridge Builders, 2016, class member
Cuyahoga Health Access Partnership, June 2010 – June 2014, communications committee member
Cleveland Plus Health Care Communicators, January 2006 – June 2011, committee organizer
Meredith A. Cowden Foundation, 2006 – 2010, 2018, communications committee member
Networking in the Middle (young professionals campaign), 2006 – 2010,  committee lead
Joseph's Home, 2010-2014, communications committee member
AWARDS
PRSA Cleveland Rocks gold award: community relations campaign, nonprofit
PRSA Cleveland Rocks gold award: interactive media, nonprofit
PRSA Cleveland Rocks gold award: community relations campaign, nonprofit
PRSA Cleveland Rocks gold award: interactive media, nonprofit
PRSA Cleveland Rocks gold award: community relations campaign, nonprofit
PRSA Cleveland Rocks gold award: interactive media, nonprofit
CONTACT
Sisters of Charity Health System
2475 East 22nd Street, Fourth Floor
Cleveland, OH 44115
P: 216-696-8408
rgallant@sistersofcharityhealth.org