SENIOR VICE PRESIDENT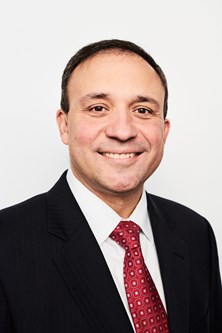 MISSION & MINISTRY
SISTERS OF CHARITY HEALTH SYSTEM
James Armour joined the Sisters of Charity Health System on January 6, 2020, as senior vice president of mission and ministry. In this role, he gives leadership and oversight to mission and values across the health system. He oversees programs and processes to ensure the decisions, policies and programs of the health system and all operating units are consistent with the mission, philosophy, faith obligations and values of the Sisters of Charity of St. Augustine, as well as the elements of Catholic identity and the social teachings of the Catholic Church.
Armour's career includes more than 20 years of leadership experience in Catholic ministry, health care and independent nonprofit settings. Before his current position, he served in two part-time roles, one as the director of mission effectiveness at St. Joseph Parish in Avon Lake and as a consultant assisting the Gospel of Life Disciples+Dwellings, a Catholic ministry that cares for older adults who live in community with volunteers. Previously, he worked in health care mission leadership as vice president, values integration for HealthSpan Partners at Mercy Health, and as vice president of mission and ministry at St. John Medical Center in Westlake, Ohio. Nonprofit leadership includes serving as executive director of Catholic Charities of Stark County and as president & CEO of the Golden Age Centers of Greater Cleveland (now Rose Centers for Aging Well).
In his current role,  Armour oversees integration of the philosophy and values of the Sisters of Charity of St. Augustine and its Catholic identity into the daily operations of the Sisters of Charity Health System and all of its operating units. His areas of responsibility include mission formation, leadership development, sponsorship, ethics, pastoral care, palliative care, and diversity and inclusion.
Armour holds a Master of Business Administration degree from the Weatherhead School of Management at Case Western Reserve University, a Master of Divinity from the University of St. Mary of the Lake and a bachelor's degree in religious studies from the University of Dayton. Armour lives in Avon Lake with his wife Maggie and three sons, and is an active parishioner at St. Raphael Parish in Bay Village. Crain's Cleveland Business named him to its Forty Under 40 list in 2009.
AWARDS
Crain's Cleveland Business, Forty Under 40, 2009
CONTACT
2475 EAST 22 STREET
CLEVELAND, OH 44115
P: 216-363-7701
JARMOUR@SISTERSOFCHARITYHEALTH.ORG