SENIOR VICE PRESIDENT, STRATEGY & INNOVATION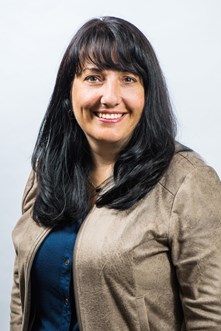 ST. VINCENT CHARITY HEALTH CAMPUS
Heather A. Stoll is the senior vice president for strategy and innovation for the St. Vincent Charity Health Campus.
In her role, she leads the overall strategy for the transformation of the St. Vincent Charity Health Campus. This effort recognizes the built environment has an indelible impact on overall social determinants of health and overall health outcomes. This role leads the development and capacity building of innovative pilot ideas identified by community and partners as well as attracting key organizations to locate on our campus. This position also supports the development of the overall organizational structure, creating paths to build health equity, and redevelopment of the physical campus. This project began in 2021 with a year and half dedicated to grass tops and grass roots community engagement towards the co-creation of the campus.
Prior to this position she was vice president of external affairs for the Sisters of Charity Health System, where she oversaw communications, branding, government affairs and public policy initiatives to promote the mission of the health system and its ministries.
Beyond her external affairs role, she provides administrative oversight of Joseph & Mary's Home and Building Healthy Communities, which are both ministries of the Sisters of Charity Health System.

A Cleveland native, Stoll is a graduate Smith College. She also holds an MBA from the Weatherhead School of Management at Case Western Reserve University. Her community involvement includes participation in the community health investment committee of United Way of Greater Cleveland. From 1997 to 1999, Stoll was the youngest board member for the Smith College Club of Cleveland where she worked to interest local girls in attending the Massachusetts institution. She lives in Moreland Hills, Ohio, with her husband Tibor Regele. Their daughter Lily attends the University of Massachusetts, Amherst.
ADDITIONAL LEADERSHIP ROLES
CONTACT
2475 EAST 22ND STREET
CLEVELAND, OH 44115
P: 216.696.5560
HSTOLL@SISTERSOFCHARITYHEALTH.ORG