VICE PRESIDENT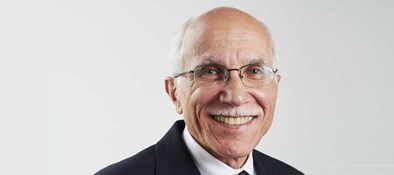 PRIMARY CARE INSTITUTE
SISTERS OF CHARITY HEALTH SYSTEM
In June 2019, the Sisters of Charity Health System welcomed Adnan Tahir, M.D. as vice president of the primary care institute. Dr. Tahir comes from the American University of Beirut Medical Center (AUBMC) in Lebanon, where he has served as hospital director & chief medical officer since 2010.
During his tenure at AUBMC, he played a key role in the implementation of the AUBMC 2020 Vision – a strategic plan that consists of major new medical (clinical and academic) facilities, the establishment of clinical and research centers of excellence, investment in state-of-the-art equipment, recruitment of talented physicians and nurses, and regional and international partnerships.
In his SCHS role, Dr. Tahir will build strategic collaborations with primary care physicians and support efforts to develop and promote population driven models of care. His focus will be on developing collaborations with adult family and internal medicine primary care. He will also help support the system's goal for advancing physician engagement, especially with independents, and enhancing the integration of care. In this regard, Dr. Tahir will work with physicians to focus on the social determinants of health moving forward to support overall health and wellness. He will also be responsible for integrating primary care and behavioral with addiction medicine to strengthen Behavioral Health Care Coordination and enhance our opportunities in value based payments across the Health System.
Dr. Tahir's goal is to continue to develop models of care that foster the most positive outcomes and the highest levels of patient satisfaction, as well as operational efficiency.
Dr. Tahir attended the American University of Beirut (AUB) in 1980 to study Biochemistry, before taking on his M.D. in 1984 at the AUB. He later attended Baldwin-Wallace College in 2006 to acquire his MBA. He began his employment in 1990 at the Endocrinology and Internal Medicine, Southern West Virginia Clinic. In 2009, Dr. Tahir was appointed chief medical officer for the Sisters of Charity Health System and St. Vincent Charity Medical Center, where he served beginning in 1992. Throughout that time, Dr. Tahir worked with medical staff to establish and maintain a high level of quality care and patient safety. In that capacity, he also served as chief medical officer of the SCHS Quality Committee of the Board of Directors.
CONTACT
2475 EAST 22 STREET
CLEVELAND, OH 44115
P: 216-696-5560
ATAHIR@SISTERSOFCHARITYHEALTH.ORG